What Is PPC (Pay Per Click)?
In this article, we will guide you about types of ppc ads. The PPC is one of the most important part of digital marketing. With the help of PPC, you can increase your business revenue online.
The full form of PPC is Pay Per Click. PPC marketing campaigns help build the brand's online presence and website. Known as one of the most important parts of digital marketing.
It is a fast way to generate traffic to the website. If it is done in the correct way, it can lead to more sales and more revenue for a brand of any kind.
Pay per click basically means that the brand has to pay for the ad campaign as per the number of clicks on the advertisement. The various types of ppc can be an image or video ad, and depending on the number of clicks the ad campaign owner gets paid.
Nowadays, people all over the world are using this technique to build their brand and create awareness among the people about their brand and product. This, in terms, helps them to increase their sales and revenue.
Basically, when someone clicks on the advertisement, they go to the landing page of the website. The advertiser is paid every time the ad is clicked. The amount that has to be paid varies based on how different competitors bid for the same ad placement. All this happens in real time on the ad website.
The cost to manage a ppc marketing campaign varies depending on the creative development, ad copy, and landing page design. Moreover, it also depends on the maximum budget, keywords, audience segments, maximum cost per bid, search engines, social media platforms, and campaign reporting. As we know, marketing at its best requires testing and then improvement per the requirement.
For Google AdWords, one has to invest in research. It is not guaranteed you'll get a positive revenue most of the time. One has to go through some learning and then slowly go to the point where one starts to get a positive result.
On the other hand, social media marketing is less expensive but also less effective. It only works when people are ready to buy and then will go for the product without thinking a lot. However, to build demand and awareness on Social Media, one has to work on Google Display and Remarketing.
What are the Types of Paid Search Ads?
One can work on many types of paid search ads and get the desired result for their brand. We have provided some of them here. You can go through all of these and decide as per your budget and requirement which one is perfect for you. The PPC ad that we will be giving importation about are:
Search PPC Ads
Display PPC Ads
Remarketing PPC Ads
YouTube PPC
Facebook PPC
Video PPC Ads
Shopping PPC Ads
Paid Social PPC ads
Gmail Sponsored PPC Ads
Amazon PPC
Affiliate marketing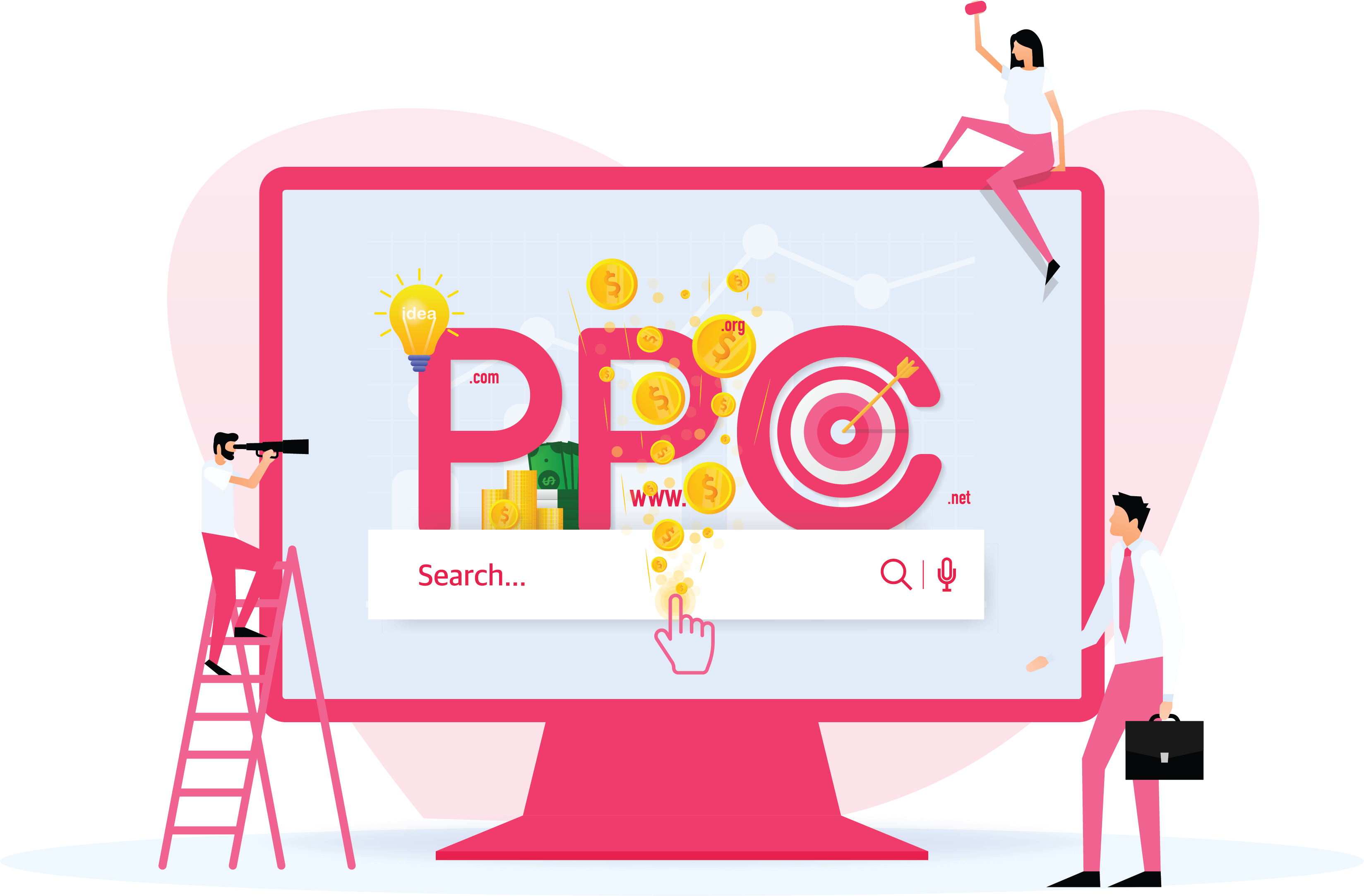 It is one of the most common types of ppc ad. Many advertisers start using Search ads when they first go with PPC advertising. Most of them choose keywords using different tools that are available, and then they use these keywords to show ads.
Google Ads copy then shows a user the ad that they have specified when a user searches for their keyword. They also mention the maximum amount they will pay when the ad is clicked.
The search engine is used in the auction system, and then they decide the order in which the pages will appear in the search bar and how much they will be paid by the ppc agency.
The auction considers how much the advertiser bids on the keyword and other quality factors. PPC Search ads can appear both above and below non-paid listings.
Most paid search advertisers use Google Ads to advertise their business on Google's search engine. Microsoft Advertising to advertise on the Bing search engine is another good option. However, the Bing search engine does not have anywhere near the amount of search volume that Google has.
In March 2020, Google had a search engine market share of 91.98%, and Bing had a search engine market share of 2.55%. However, Bing generally has lower click prices and can be helpful in addition to Google Ads traffic.
Display advertising is a period advertisement where the product can be advertised while they are also browsing the internet. It is one of the types of ppc advertisement that is quite different from other types where we can also use the people searching for the product and directly go to the brand's website by clicking on the display ad.
The user has to click on display ads, and they will be read directed to the website from where they can make the purchase. One problem with display advertising is that people who are only searching for the product also tend to click on the advertisement, but they do not make the actual purchase. And that is the reason display advertisements sometimes have a lower conversion rate than other advertisements.
One of the best things about display advertising is that if your project product is new and you're looking for new people to come to your website and know about your product, then display at an advertisement helps a lot and can be the best option for you.
Remarketing ad means showing an advertisement to the people who have already visited the website sometimes in the past. It means that people are already interested in the product, at least some of your products, which makes it a profitable campaign for PPC ads.
It is considered best among the types of ppc as most of the customers who come back make the purchase, so the chances of converting back into sales are very high in entry marketing. It also helps you know about your existing customer, and you can work on it and increase your sales.
Here are some examples of audience lists that can be created and targeted via a Google Remarketing campaign:
All previous users
Previously purchased from the site
Signed up for the newsletter
Watched business's YouTube videos
Cart abandoners
Spent longer than x seconds on site but did not convert
It also works on the same system where you have to display ads to the user, who can click on them to make the purchase. The display can be an image on video, and when clicking on it, the user goes to the landing page to make the purchase.
There are many advertisement platforms; however, Google is considered the best. For remarketing, one can also go for many other marketing platforms. One can also use social media platforms like Facebook and Instagram for this marketing campaign.
YouTube For Pay Per Click
YouTube is managed by Google and has billions of monthly visitors. YouTube is used by people worldwide, and there are different kinds of people there looking for different kinds of products.
One can utilize this and place them on YouTube and increase their sales funnel. The birth thing about YouTube is that it so advertisements to the people were relevant. You can place both display ads as video and pictures.
YouTube also allows you to make videos of different lengths, and to depend on that, you have to pay YouTube for your advertisement. The length of the video can be from 5 seconds to 30 seconds or even more. Except for charging by cost per view, they are set up similar to the other types of PPC marketing campaigns, as follows:
Type of Ad
Your bid
Bidding selection
Average CPV (Cost Per View)
Your Budget
Average CPM (cost per mile or cost per thousand impressions)
We all know the popularity of Facebook and how many people are there constantly on Facebook. This popularity has made your Facebook one of the most popular and powerful types of PPC advertising campaigns. It has been seen that there are different kinds of ADS that are available on Facebook.
So if you want to launch a Facebook social media campaign, you must go to add manager option on Facebook and set up your daily budget and the amount. Facebook has different kinds of content on its website, and it selects people depending on their interests and shows them the ad you have put there.
So the best thing about Facebook is that it shows the advertisement to relevant people, maximizing sales. Parameters for selecting your target audience on Facebook :
Location: Targeted by country, states/regions/provinces, cities (a radius within a city), Zip, and postal codes.
Demographics: Language, age, and gender
Interests: Pages they liked and other ad engagement on Facebook
Behaviours: based on their digital activities, what devices they use, past or intended purchases, and travel.
Custom Audience: you can also choose to download a list of customers or choose to retarget potential buyers that visited your site.
More about Facebook ads
Facebook captures the information about the people from their profiles on the website. This gives them an edge over other advertisement platforms as they know more about the people on their website than any other. And so the chances of those people getting converted into customers and making the purchase is very high. So most of the time, these people click on the advertisement, go to the landing page, and make the purchase.
As these people are already there on Facebook, they generally don't have to search for the product they are looking for. And this is because as Facebook has information about them they sometimes know what they are looking for even before they actually tell them.
Facebook is a very powerful social media platform, and they have many other goals in their mind. Facebook helps you to make your brand more popular among people. It also gives the advertiser the ability to select the area of the type of customer they are looking for, which increases the chances of success.
However, the challenge is that most of these leads are not of high quality and the conversion of high-quality leads is a challenge for Facebook.
Video ads are an important part of digital marketing. The amount of information one can put in a video is very high, making it relevant and informative for the customer. Around 80 to 90% of businesses and ppc agency use video ads as an integral part of marketing. Most of the digital marketing company use video ads for increase your business sales.
What is the thing that makes video advertisement very powerful is that even if the people don't know anything about your product, by watching the video, they can get all the information about the product. This makes them decide easily and go for the product even if they were not looking for it in the first place.
The brand does not have to make an audience as there are many platforms where they can put the video ad. These platforms find the relevant customer for them, and the brand only has to pay for this platform when the customer clicks on the ad or sometimes even when they watch it completely.
YouTube is an excellent place where one can put video ads. Apart from this, there are many other platforms too where brands input their video ad and increase their sales.
Shopping can be shown on a search engine just like a search campaign. However, the basic difference is that a shopping ad will contain all the information about the product that must be sold. The product's price, title, and description have to be there so that the customer does not care exactly what they are looking at to purchase.
It is considered very powerful because it gives much information about the product to the customer, and the customer does not have to do many things when making the purchase. As they are the picture of the product, the cost, and more information, the customer can make the decision then and there. This thing increases the chance of conversion rate of a shopping ad.
Businesses can get traffic from many search engines, especially Google. Free traffic is also available on Google, and one can also pay for it. Using relevant types of keywords in ppc, one can bring traffic to their website more easily.
Showing ads to people who are browsing their social media is called paid social ads. There are many social media platforms where pet social ads can be run. Some examples include Facebook, Instagram, LinkedIn, Twitter, tik to quora and Snapchat. There is an advertising section in these social media websites.
One can easily make their profile there and start advertising. Aur Facebook Instagram account can be used as both his own by Facebook. They gave different places on the website to place the ad. It is also one of the most popular kinds of advertising where the conversion is very high.
It allows any kind of advertising campaign for the brand. One can go for a picture or video for the advertisement and target new users, and also can go for a remarketing campaign so that old customers can come back.
Gmail sponsored ads can be created within Google ads. So everyone advertising on Google search or shopping or even display campaigns can easily branch out and run their own ad on Google sponsor advertising; it is a one of the types of ppc.
Google sponsored ads sometimes look a lot like an email. So when the user clicks on the ad in the mail, they get to know the detailed version of the ad. After that, they can click on the ad and visit the landing page from where they can make the purchase.
Gmail ads can be an excellent way to increase brand awareness and get extra top-of-the-funnel traffic. There are three Gmail-specific metrics that you can add to your Google Ads campaign data to get an idea of how well your Gmail campaigns are performing:
Gmail saves– This metric shows the number of users who saved your message for later.
Gmail forwards– One of the benefits of a Gmail campaign is that the user can choose to forward your email to someone else who may be interested in it. The Gmail forwards column will tell you how many times your ad was forwarded to someone else.
Gmail clicks to the website– With a Gmail campaign, the first time that an advertiser clicks on your ad, it will be expanded to show the user more information. This will register as a click, and it is when you will be charged.
If the user clicks on the ad again, then they will be taken to your website. The Gmail clicks to website column shows how many people expanded your ad and clicked through to your website.
Amazon has a large number of products on its website. Millions of people visit Amazon to purchase their things. Voice search on Google, many people also go there to look for the things that they are interested in.
It is one of the biggest e-commerce websites in the world. You can set up a business account on Amazon and start selling your product. It also has a system of ad campaigns but can even advertise its product to increase sales; hence it also comes under one of the types of ppc.
There are generally three types of campaign types on Amazon's advertising platform.
Sponsored Product Ads– Show an ad within the search results. Your ad will be shown when one of your keywords has been searched for.
Headline Search Ads– Show an ad at the top of the page. Your ad will be shown when one of your keywords has been searched for.
Product Display Ads– Show pictures of your actual products just like with a Shopping campaign.
Affiliate marketers create pay per click adverts promoting your products or services and place these on search engines, targeted content sites, price comparison websites and heavily-trafficked websites. Affiliate marketing is a performance-based payment model. What it means is that the payment is allowed with the result. One can also do it using their in-house program or source from a third-party provider.
Successful affiliate marketing requires ongoing management and can be quite time intensive. There are also certain risks, including poor ad placement, which can result in a poor response or reputational damage and competitive keyword bidding on your brand terms by affiliate networks.
What are the Benefits of PPC Marketing?
The current trend of PPC is gaining popularity in the digital world and it has loads of advantages, some of them are:
PPC is easily trackable and it can be measured to review the performance.
PPC can help you achieve your business goals.
PPC Marketing can help you reach the top faster and better.
PPC can be easily controlled by you as per your requirements to reach your potential customer.
PPC is a hit in the whole digital marketing world; hence it syncs up well with all marketing channels.
PPC can provide extensive marketing data that can help you reach beyond your competitors quickly.
PPC has the provision to help you target your potential customers with keywords and many more.
You must own the crown of PPC to go beyond in your digital career. The extensive data and potential targeting with the types of ppc will help you shine with your business digitally.
Earlier, entrepreneurs used to struggle for many years to reach out to their potential target and build their presence. But, today, weapons like PPC can help you run faster in the race and reap the benefits of success earlier than your competitors.