Pay-per-click (PPC) advertising may help your company reach quality leads fast and convert them into sales. Consider Google Ads management services to help you get the most out of your paid advertising campaigns. 


You may maximize ad expenditure and outcomes by enlisting the services of a team of experts to handle your campaigns. Hire our google ads management experts for increase your business ROI. Call us today.
Catch the attention of the most interested potential clients at the time and place when they are actively looking up keywords connected to your company.
Quickly measure every aspect of your Google Ads. Your advertising expenses, earnings, ad clicks, website views & landing web page visits are all relevant here.
Comparing Google advertisement to other types of marketing, it is inexpensive. It really is unquestionably one of the strategies with a great return on investment.
How Google Ads helps businesses
You may pick from a choice of searches/keywords, relevant ad messaging, and which pages on your website prospective clients will see after clicking on your ad using Ads. A potential consumer who is likely to buy from your company will locate what they're looking for fast, and a large percentage of them will buy or become a lead.

We use Google Advertisements to help you expand your business by putting your ads in front of the most relevant searches & audiences. This improves sales or leads by attracting new visitors to your site, reminding former visitors of what you have to offer, and experimenting with different strategies to attract the ideal visitors.

Google Ads is a form of "cost-per-click" advertising, meaning you only pay whenever anyone clicks on the ad and visits your website. Numerous statistics depend on how long they remain, what you say in your ad content, and where the individual came from. With these data, Google can utilize its sophisticated algorithms to generate a high Return on Investment (ROI) from high-converting keywords that generate sales and leads for businesses. Digital Romans understand how to make the most of these algorithms for your Ads.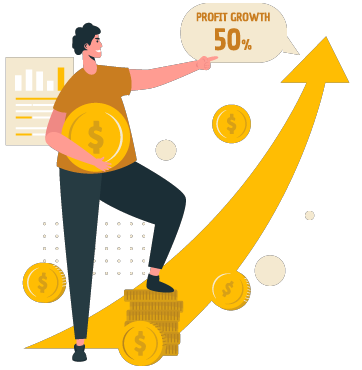 Digital Romans provides comprehensive Google Ads Management services
Digital Romans is the place to go if you want to invest in Google ad services. We offer complete management services to assist you in getting better outcomes from your PPC campaigns.

Our packages are tailored to your specific requirements, and our management costs are calculated depending on your ad expenditure. When you invest in our Google ad marketing services, you can expect the following:
You must bid on relevant keywords for your Google advertisements to appear in relevant search results. You want your ads to show up when people search for key phrases relevant to your business, goods, or services, so you can get vital traffic to your website.

We'll do keyword research for you and select the most relevant phrases for your advertising as part of our Google Ads management services. Long-tail keywords (three or more words) will be our target because they have the lowest prices yet attract the most relevant traffic.
You can do more than target by keywords with Digital Romans managing your Google advertisements. Customer and audience match targeting are included in our Google Ads management services. 
You may use this form of targeting to show your adverts to those who are most likely to buy. 
You may utilize demographic data, purchasing patterns, and other factors to build more focused marketing campaigns with greater outcomes.
When you run Google advertising for your business, you're up against other businesses in your field. To utilize that information to guide your PPC advertising, you must first understand how your company stands out in your sector.

You'll receive a detailed look at your sector and where you stand with Digital Romans' Google Ads marketing services. We'll utilize this data to construct PPC advertising that displays above organic content and rivals' ads.
Ad copywriting is crucial in determining whether or not consumers engage with your ad content. You must present consumers with relevant, interesting information if you want them to look at your adverts and take action. We have a staff of copywriters at Digital Romans that will create ad text that produces clicks and keeps leads engaged with your advertisements.
You must test your ad wording in order for your ad campaigns to remain effective. Minor adjustments may be all that's needed to boost your ad's success and generate more leads and revenue for your company. We handle the ad testing for you at Digital Romans. We'll make changes to your advertising on a regular basis to assist boost ad effectiveness and conversions.
If you want to get the greatest results from your Google advertisements, you'll need to track their performance on a regular basis so you can tweak and enhance them.

With our Google Ads services, we'll set up your Google Ads account and begin measuring your ad campaigns' effectiveness.
When running PPC advertisements, you want to make the most of every dollar in order to obtain the most leads and sales out of your Google Ads budget. At Digital Romans, we work with you to consistently optimize your ad bids and budget so you can get the most bang for your buck.
Our team has several years experience in creating high converting ads – we're experts at making them fly. We'll create a campaign that's relevant and affordable for your business.
Get the report that shows you how to increase your Google ad campaign results. A complete analysis of your ads, keyword, bid and more. Get all the information you need in one place.
Reasons to make Digital Romans your Google Ads managers
Look no farther than Digital Romans if you're ready to invest in Adwords management services. We're an unrivaled partner for helping your business expand, with years of expertise in producing successful, revenue-driving ad campaigns. Here are some of the reasons why you should work with us:
You want campaigns that generate leads and sales when you engage in Google ad services. You'll need a campaign that's targeted to your organization and goals to get the most out of your PPC advertisements.
At Digital Romans, we take the time to learn about your company and its objectives. We investigate your industry and rivals, as well as your position in the market. We create a campaign that is unique to your company based on all of the information we have.
You want to know what's going on with your campaigns when you choose Google Ads management services. You want your marketing firm to keep you updated on the status of your campaign so you can be certain that your Google advertisements are delivering the results you expect.
We retain an open line of communication with all of our clients at Digital Romans. We assign you a personal account manager who will answer your inquiries, resolve your issues, and listen to your suggestions.
Your account manager will also give you monthly updates on the development of your campaign. Your account manager will work with you to unearth actionable information that will help you enhance your PPC campaigns and get better results.
Revenue driving campaigns
When you invest in Google advertising services, you want a plan that will help your business get the cash it needs. We have a long history of delivering outcomes that make our clients pleased at Digital Romans. When you work with our team of marketing specialists, you can rest assured that your ad campaigns will get the results you want.
Invest in Our Google Ads Management Services that Boost Revenue
Google AdWords is the key to generating more qualified leads and income for your company rapidly. You can increase revenue and help your business develop by implementing a personalized Google AdWords campaign.
Look no farther than Digital Romans for a Google Ads partner who can help you achieve more with your campaign.
Are you ready to use Google Ads to expand your business? contact us online or give us a call now!
Why You Should Hire Us to Manage Your Google Ads
At Digitalromans we have top ad manager  experts who can help you increase your conversions and generate more revenue per sale
Keep Ahead of the Competition​
Our google ad management experts are here to help you take advantage of all the great benefits that come with managing your ads on Google AdWords.
When you work with us, we'll be the Google ad agency you can trust throughout the duration of the success of your marketing campaign.
FAQs about Google Ads Management services
Q : What are Google Ads Management Services?
A :An agency manages your advertising campaigns for you and helps you make the most of your advertising budget using Google Ads management services.
Q : How do Google ads work?
A : Google Ads, previously Google Adwords, is a well-known PPC (Pay Per Click) internet advertising platform. When you use Google Ads to promote, you are attempting to have your ad appear in Google's search engine. Because you pay for each visit to your website, it's known as PPC. The cost of each click is determined by two factors: the competitiveness of the keyword (we do keyword research for you), and the relevance of your landing page design to the search query. The cost-per-click (CPC), also known as an auction bid, is lower when you write strong advertising that goes to a reputable website. You may set spending limits for yourself on a daily, weekly, monthly, or lifetime basis. As customers continue to turn to Google for answers, developing an effective Google Ads campaign may have a big influence on business success. Google Ads works well with Google Analytics and the rest of Google's suite of products.
Q : How to find the right Google Ads Management services?
A : There are numerous significant aspects to evaluate when looking for a Google Ads agency (previously Adwords agency). To begin, keep in mind that Google Ads is a well-known and competitive digital advertising marketing channel. Because there are so many agencies to select from, several have chosen to specialize in particular areas. There's no need to go in-house when you can find a suitable digital marketing agency with a track record of consistent successes and search campaign case studies in your sector. Also, make certain to inquire about recent recommendations. Utilize the Google Partners program, which has verified the top agencies to vouch for their members.
Q : Do we need to sign a long-term contract with your agency?
A : We're not attempting to sign you to a long-term deal like a baseball team. However, when it makes sense (for example, if we're working on a significant project), we'll ask for a bigger commitment. Because it safeguards both of us. We can go over the specifics during your free consultation.
Q : What is the cost of advertising with Google Ads?
A : Costs vary depending on the scale of your campaign, the services you utilize, and other considerations. Small-to-midsized businesses (SMBs) pay $9000 to $10,000 per month on Google Ads on average. The typical cost-per-click (CPC) ranges from $1 to $2.