Get your Business Found online with the Best Digital Marketing Agency in Mumbai
Digital Romans is a digital marketing agency in Mumbai that provides comprehensive digital marketing services.

We offer end-to-end digital marketing services, including digital and offline content creation, branding, and marketing execution via SEO, Social Media & Influencer Management, Google Ads & Social Channels, and other methods.

We've worked with over 300 startups and established brands, and the knowledge gained from hundreds of social media campaigns, thousands of keywords ranked on the first page of Google, a plethora of motion and static content produced, millions of sessions recorded, crores of media money spent, and revenues generated for them has solidified us as a new generation digital marketing agency.


Achieving Success as a Leading Digital Marketing Agency in Mumbai
 By the end of 2023, our goal as a company is to be one of Mumbai's most desired digital marketing agencies. We have three missions that will assist us in realizing our goals:

Accelerating Talent and Client Business Growth: Proactively fostering talent and clients to help them achieve their goals. Performance-Oriented Creativity: Developing and implementing high-impact breakthrough ideas that help the brand accomplish its commercial objectives. Constantly Upgrading: Implementing ever-evolving SOPs targeted at providing practical answers to our clients' problems.
Expert Digital Marketing Services in Mumbai for Sustainable Business Growth
 Our mission as a digital marketing agency in Mumbai is to help companies achieve fast and long-term success via the use of our highly skilled team's digital marketing knowledge. We are a great fit for both big and small companies because of our close-knit team of professionals. We have the stability and combined experience of a major agency, but we're also nimble and adaptable enough to keep things going at the proper speed.

We establish ourselves as a partner who can help our clients build their marketing infrastructure from the bottom up or accelerate their existing setup to boost their digital growth. We forge as your extended marketing partner thanks to effective internal procedures and topic competence in digital. Direct access to the founders and core team, flexibility and agility when conditions require it, clean reporting and transparency at every level, and total protection of your personal data are some of the reasons why our clients keep coming back to us.
Our Digital Marketing Agency in Mumbai Will Take Your Business to New Heights
Digital Romans is a digital marketing company in Mumbai that focuses on results! We are a bunch of energetic and creative individuals who live, breathe, and eat digital marketing. Our strategy is based on tailored strategies that are fueled by innovation, comprehension, and a dedicated team of professionals.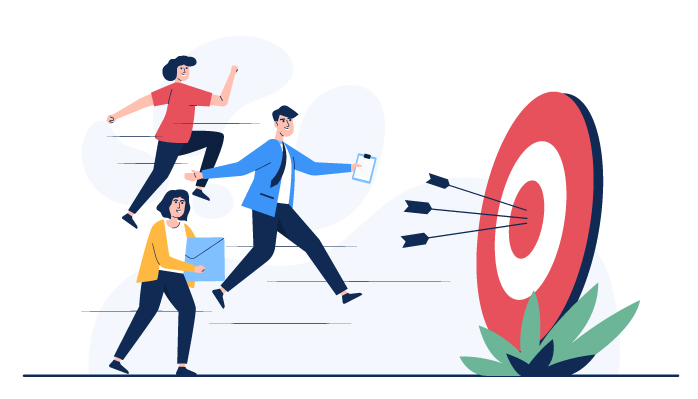 We've mastered the art of integrating multiple online marketing channels with custom-made tactics and infusing them with your particular business aim and objectives via years of experience. We understand that achieving goals is critical to a company's growth, and ensuring your digital growth is our passion. From scaling thousands of campaigns, producing quality content, ranking your brand on the first page of SERPs, and generating traffic in a way that drives increased brand awareness, engagement, conversions, ROI, and growth, we've carved out a niche as a modern-day digital marketing company in Mumbai.

With the ever-changing world of online marketing, our enthusiasm for it has only grown stronger. Our objective is to push boundaries and inspire our clients to achieve new levels of digital success, and this is how we assess our success!
Our Digital Marketing Services in Mumbai
Digital Romans is India's leading provider of digital marketing and SEO services. We execute the full digital marketing plan from start to finish. We specialise in SEO services, which range from enterprise SEO to local SEO, app SEO to video SEO, and everything in between, despite the fact that we take a 360-degree approach to digital marketing. We'll collaborate with you to achieve your marketing objectives and assist your business in achieving the growth you've always desired.
Search Engine Optimization
Digital Romans, as a Top SEO Agency in Mumbai, provides the best Search Engine Optimization (SEO) services if you want to go to the top of Google Search results and stay there.
We are one of only 60 Google Premier Partners in India, therefore when it comes to generating leads and increasing sales through ppc services, we are among the best of the best.
Web Designing & Development
The importance of first impressions cannot be overstated, and we can assist you in closing the business right away. We work in a consultative manner as your website design company. 
Allow the SEO specialists at Digital Romans to monitor, preserve, and grow your online brand reputation. Our digital marketing agency in Mumbai will help to increase your brand awareness.
While engaging with your target audience, our award-winning Content marketing services may help your company create trust, authority, and thought leadership. Boost the effectiveness of your SEO campaigns along with it.
With our excellent email marketing strategy and communication, you can reach your target audience. Hire our top digital marketing agency in Mumbai for converting your customers & generate more leads.
Our Digital Marketing Services For
How Digital Romans Can Bring You the Desired Results
We, as a digital marketing agency in Mumbai, are well-organised, well-targeted, and deliver real-time results. All of these things sound corporate, and while some may treat you as such, Digital Romans has the will to see your idea through.

As a Mumbai-based digital marketing agency, we have a responsibility to help you grow your business. This entails increasing the number of visitors to your website or app downloads. It may appear simple, and we portray it as such, but it necessitates a significant amount of effort, which we are not afraid to put forth.

When any allusion to digital marketing is made, branding is soon to follow. We improve the efficiency and volume of your online presence, which is the essence of digital marketing. This entails evaluating and improving your online hub.
Maximizing ROI and Driving Success with Our Digital Marketing Services in Mumbai
As the saying goes, the higher the return on investment, the larger the profits. We never stop thinking of your image as a digital marketing agency, and part of that is not overlooking the ROI that comes after you employ us. Our digital marketing company in Mumbai gives the top result oriented results with the top marketing strategies. 

Another area in which we dabble is social media marketing. It's become one of the new basic tenets of surviving the spotlight in this moment for us.

Overall, we assess your website traffic and ensure that the balance between your marketing operations and the outcomes they produce is maintained on a regular basis.

Even toy retailers have their own webpage. It's an unspoken law in the digital marketing world to have a basic website with important information about your company. Rest confident that we will create a website that your customers will want to return to. Your website will not be basic in any way, but a simple idea will blossom into a series of webpages that will keep your visitors captivated.
Why choose Digital Romans- Digital Marketing Company in Mumbai
 Let's have a look at how Digital Romans differs from other Mumbai-based digital marketing firms:
With targeted and cost-effective marketing, we help you expand your consumer base. These services span from authoring to social media ads, ensuring that your company is appropriately portrayed throughout the process. Our digital marketing services in Mumbai are well-known, and our extensive list of satisfied customers attests to our ability to create memorable experiences for your customers.
Splitting your marketing demands across several digital marketing companies in Mumbai is not only time-consuming and inefficient, but it's also prone to errors. At Digital Romans, we provide a comprehensive range of services to meet the needs of your online presence in every way. Across all media, we ensure that your brand voice is consistent and resonates with your target audience.
We have catered to a variety of clientele, both in India and abroad, as a preferred digital marketing agency in company. This has allowed us to pinpoint the customer acquisition process as well as the best digital campaign mix to assist you increase your ROI.
Make Digital Romans you partner for Digital Marketing in Mumbai
We have years of experience navigating the fast-evolving digital marketplace and delivering quality digital marketing services as a leading digital marketing agency in Mumbai. Our clients come from all over the world and work in a wide range of industries, and we use what we've learned to be the best at what we do.
We're committed to helping you achieve long-term revenue growth, and we're continually looking for methods to improve your return on investment.
Through digital excellence, we go above and above to generate transformational growth. Our digital marketing services in Mumbai are now available in easy-to-purchase bundles with specific deliverables. Please contact us to discuss a tailored plan to fit your specific business requirements.