Digital Romans is a full-service digital marketing agency in Delhi, India. We use our years of experience and knowledge to provide our clients with solutions that are both performance-driven and unique. We're putting out fantastic digital advertising for our clients even as you read this!
What is marketing if it isn't based on results?
We create digital experiences that both engage audiences and accomplish the aim. You can rely on us to make your brand visible and desired through highly focused performance marketing.When it comes to insights, measurements, and analytics, everything is interconnected.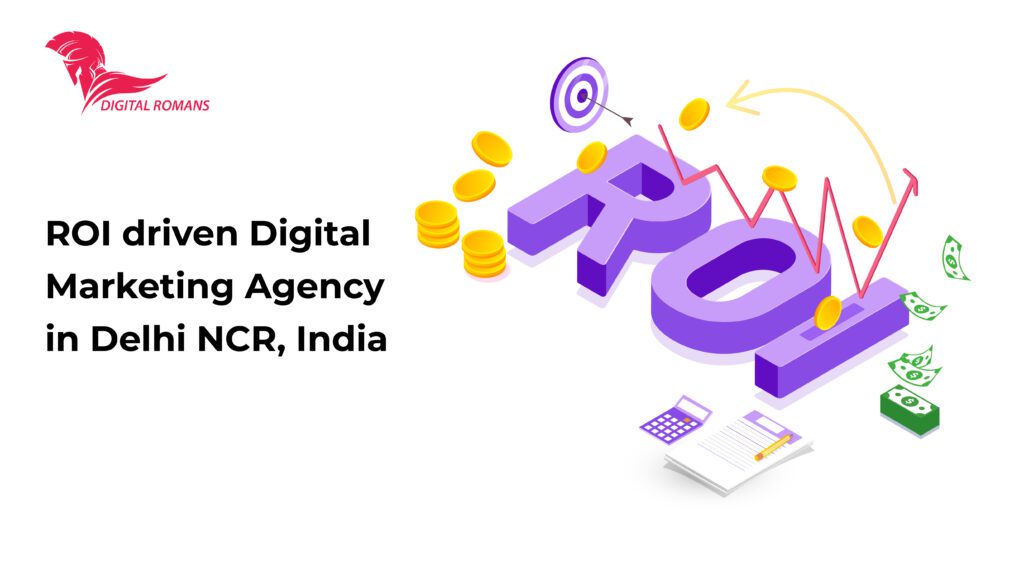 Connected Digital Communications and Innovative Strategy at Our Digital Marketing Agency in Delhi
In a digital world where everything is connected, we believe that the approach to digital communications must be joined-up as well. From mobile and adaptable web design to search and social media advertising, our strategy blends creativity and technology, bringing together a wide variety of digital marketing disciplines under one roof.Our strategy is underpinned by innovation and is optimized for outcomes. We recognize that each client and project we work on is unique, so we've created a repeatable approach that we know works.From the beginning, our process places the user at the center of the experience. We design attractive and useful solutions that work hard and produce targeted outcomes by iterating through a predefined set of phases. Our digital marketing agency in delhi is highly proven result oriented company.
How Digital Romans is Better than Other Digital Marketing Agency in Delhi
Digital Romans, situated in Delhi, is one of India's top digital marketing companies. We are a full-service digital marketing firm that analyses and implements all of your initiatives. Our top-notch services encompass everything from website design and the best SEO services to mobile app development and online reputation management to engage your targeted and future clients.
We have a team of highly devoted specialists with many years of expertise in digital marketing, SEO, SMO, content, website design and development, and more as a top-notch digital marketing agency in Delhi NCR. Our staff is dedicated to helping you develop your business in leaps and bounds by ensuring that your website ranks first in search engine results.For many years, Digital Romans has been producing value for its domestic and international clientele. Every month, our dedicated staff of digital marketing experts completes a vast number of jobs. In order to assist businesses in growing, we are always aiming to supply them with result-oriented and perfect services.
Our perfect digital marketing services and amazing solutions are available to clients all around the world.
With years of expertise in digital marketing and associated activities, Digital Romans is one of the top market players. As a result, we draw on our knowledge to bring the best to the table.
Our staff is involved in the entire process, from start to finish. One of the reasons we have completed over 100 projects so far is because of this.
Our services are not limited to only Delhi. We provide our skilled services to companies all around the globe.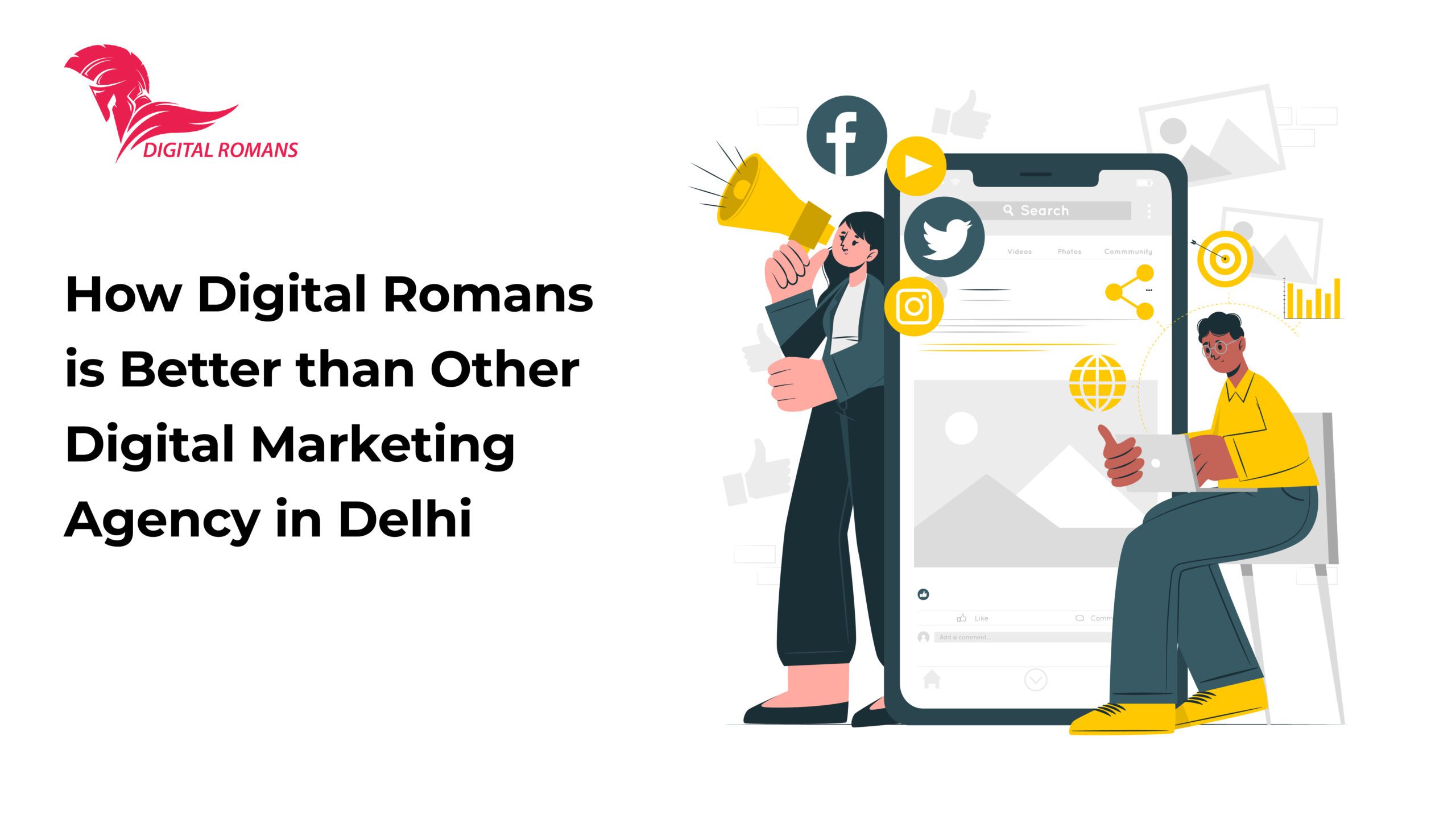 Lets understand Digital Marketing
Digital marketing, often known as online marketing, is the use of digital technologies such as SEO and social media to link companies with present and prospective customers. Digital marketing is the process through which businesses use various digital platforms to promote their products and services. Digital Romans is one of top digital marketing agency in Delhi.
Online Marketing, often known as Internet Marketing, is a subset of Digital Marketing. When content is sent through the internet, this is referred to as "internet delivery." Digital marketing, on the other hand, refers to any marketing that takes place on electronic devices such as smartphones, computers, etc.

In contrast to traditional marketing, which is referred to as one-way communication, digital marketing is dynamic. Customers cannot connect with a firm with a paper advertisement in traditional marketing, Digital marketing, on the other hand, allows a company to communicate with both current and potential clients. Increase the visibility of our website or business on google with our top digital marketing agency in delhi.
Our Services as the Pioneer Digital Marketing Agency in Delhi
Because first impressions are key, we can close that transaction for you right away. As a website design and development company, we use a consultative approach, acting as your advisors, designers, and developers to match your needs.
We are Search Engine Optimization professionals that know all the ins and outs of the industry. We know all there is to know about SEO, from on-page to off-page. We employ all SEO tactics to ensure that your business receives the online attention it deserves.
Prepare for a surge in business, with more visitors, leads, and sales. All of this without creating a hole in your pocket. We will generate a greater Return on Ad Spend (RoAS) than you have ever seen before by properly employing all Ad channels. Begin your PPC campaign right now.
Through a social content strategy that increases engagement, likes, fans, and follows, we can help your company connect with more people. Furthermore, eye-catching graphics, animated GIFs, and short films can all serve to raise awareness of such topics. Begin your social media marketing strategy right now with the top digital marketing agency in Delhi.
For your digital marketing needs, we provide a well-thought-out, complete content strategy. Our services encompass content research, ideation, and creation for all types of marketing assets, including editorials, videos, blogs, and advertisements. Make yourself the go-to source for knowledge, and you'll be miles ahead of the competition.
When we create valuable content, the only method to share it with our clients is via email. We will bring visitors to your site via an email marketing campaign. Reaching the right people at the right time. A successful marketing strategy requires reaching the right people at the appropriate moment.
Boost Your Business With Our Best Digital Marketing Agency in Delhi NCR, India
Digital Romans was created by a group of young professionals who wanted to better understand the necessity for businesses to have a digital presence. They studied and experimented with a variety of current and future business scenarios before forming Digital Romans, which is headquartered in Delhi and has expanded to cover multiple locations across India.

Digital Romans began with a few young brains and has grown to include many workers with knowledge across different fields who are considered the company's backbone. With the passage of time, we have created long-term connections with our clients and have achieved success by maintaining a strong market position.
At Digital Romans, we strive to make our clients' dreams come true. As a result, we make certain that each customer is assigned to a distinct staff. Who works as an account manager to ensure that clients receive timely information. Furthermore, Digital Romans offers thorough coaching to customers so that they may make the most of our services and maximize their return on investment.
We give consulting services to start-ups, unlike any other digital marketing business in Delhi NCR, since we realize that a company must overcome many obstacles in order to maintain a specific position in the industry.
Search Engine Optimization, Social Media Marketing, Pay Per Click Advertisement Management, Content Writing, Web Development, Brand Building, Email Marketing, and many other digital marketing services are available to our customers.
We at Digital Romans digital marketing company in Delhi believe in providing the finest results for our clients.
To suit the demands and requirements of our customers, we have a variety of plans and methods. If you're enthusiastic about your product, let's collaborate to create your ideal business.
Do you believe hiring a Digital Marketing Agency in Delhi NCR or India is prohibitively expensive? Then you're mistaken!