Website Redesigning Services have become the hallmark of any business. Today you may be running an offline business or an online business, but your digital presence is a must. A functional website is one of the most important aspects of having a robust digital presence.
Having a website is not enough; website maintenance is also a crucial part of the process. Sometimes the maintenance required can be huge, like Website Redesigning. We are a digital marketing agency that has mastered the art of website redesigning and has given proven success to our clients.
Website Redesigning includes designing your website from scratch, just like it was done for the first time. But the only difference here is that you have a functional website for which we have to identify, assess, analyze, alter, and implement necessary changes.
Website Redesigning is similar to deep cleaning your house every year. It will not only help you to keep the dust away, but it will also help eliminate unnecessary and redundant items from your home.
In this blog, you will understand the necessity and importance of website redesign in detail. You will also know about your strategies to get positive results from the redesigning process.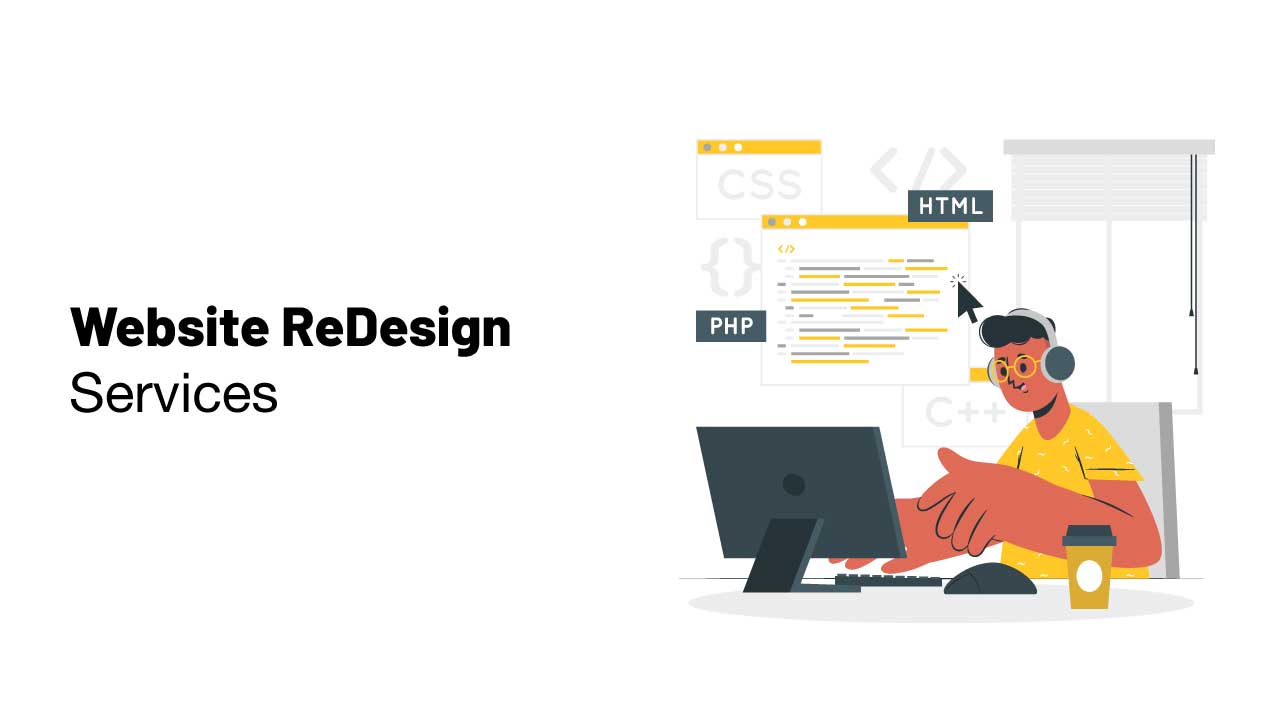 What is Website Redesigning?
Website Redesigning is a process of rebuilding your website from scratch. We will have to repeat the coding process of all the elements in your website. We will also have to remove all the unwanted aspects from your website and improve the functional part of your website.
Website Redesigning is similar to renovating an office or any space to change its look and make it more functional to achieve more productivity.
We can also choose to do a partial redesign for your website, depending on your requirements. A partial website redesign includes alterations in either the backend or frontend elements of a website.
Website Redesigning has many benefits, as it can improve the functionality, visual interface, branding, and backend coding of your website. It will help your business scale higher and generate more revenue.
Why should you opt for our Website Redesign Services?
Does your Website require redesigning very often? How to find out when you should opt for a website redesign?
The answers to all your questions will be available in this blog. No, you don't need to redesign your website often. Ideally, you can do Website Redesigning every 2 to 5 years.
However, the functioning of each website can be different, and you must assess your website well before opting for a website redesign. There can be some situations where your website starts slowing down or lacks performance after one year; in that case, you can opt for our Website Redesigning services to reap better results. Digitalromans provide the web development and web design services in various sectors for Example: "Website Design for Healthcare Professionals"
Here are a few reasons why you should opt for our Website Redesigning services,
1. Website is not Mobile-Friendly
Mobile phones have become the oxygen for people in today's world.
No one can function without a mobile phone in their hands.
If your website is not 

mobile-friendly

 or mobile-responsive, then you can lose out on so many potential customers.
Our Website Redesigning Services can be helpful when you do not have a mobile-friendly and responsive site.
Mobile-friendly websites can adapt to the screen size and space of smartphones.
Mobile-responsive Websites are the ones that can provide call-to-action buttons on their mobile-friendly websites.
We can deliver all the mobile-friendly features to your website, making it accessible.
2. Website has a Slower Speed
In this fast-paced world, if your website has a slow load speed, you must seriously consider our Website Redesigning Services.
In this world of 5g, people will get impatient and frustrated with slow site speed.
If you want your website to generate good revenue for your business, you must immediately opt for our game-changing Website Redesigning strategies to improve the load speed of your website.
A faster website will keep your user engaged. It will also improve the user experience of your site.
3. Website lacks Accessibility
Any Website must be accessible, which means it must be easy to use by most people.
If you have a website that has a complicated design, then you must think of our Website redesigning services to improve the accessibility of your site.
We will use more significant texts with legible fonts and high-contrast images to make your website accessible.
4. Website has a Poor User Experience
End-User experience is one of the prime factors in deciding the fate of your website.
If your user experience is unsatisfactory, you will have poor search engine rankings and lesser web traffic.
If you think your website's user experience is not on-par, then think no more and opt for our Website Redesigning strategies.
Our Redesigning services can remodel your website by incorporating easy access to many options and easy-to-navigate menus for the users.
Navigation menus, call-to-action buttons, etc., can be great inclusions to your website redesign process to make it user-friendly.
5. Website has a Complicated Structure
The complicated structure of your website can complicate the future of your business.
It is always ideal for keeping your website as simple as possible.
Simplicity attracts more people than complications.
When your website structure is simple and easy to understand by the users, they will prefer your website over your competitors.
If you get input from users that your website is complicated, it is ideal to opt for our Website Redesigning services.
Our strategies will incorporate elements like easy navigation, homepage redesigning, etc.
Hence, your website can become simple and more user-friendly after we do a website redesign process.
6. Website's design is Outdated
Today with the advent of the internet and modern technologies, innovations and creativity are on the rise.
Every day there are newer inventions, and the old ones become outdated.
So, imagine if you have a website made five years back, you are sure to have an outdated one because so many new technologies and software have emerged recently.
An outdated website can cause many functionality troubles and interfere with the user experience.
Hence, it is ideal to opt for our Website redesigning services for your outdated website to bring some newness and attract more users.
We will establish new elements, making your website more technology-driven and functional.
7. Your business has a New Audience Group
Sometimes when you start your business, you focus on a particular audience group depending on your knowledge.
When you launch your products and services in the market, you realize that people of different audience groups are more interested in your products and services.
But, by then, you have already created a fully functional website; what should you do now?
It is the ideal time to opt for our Website Redesigning strategies to bring renovation to your site.
Website Redesigning can help renovate your website, focusing on all your preferred audience groups to make maximum revenue.
The idea behind our website redesigning process is that your new audience must not be unhappy seeing your website.
8. Website has poor rankings and SEO performance
If your website's performance is unsatisfactory, it's high time to opt for our Website Redesigning services.
A complete website redesign by us will focus on Search Engine Optimization of your site to make it rank at the top of search engines.
We will incorporate SEO in the website redesign process by placing appropriate keywords in your website to improve the search engine rankings of your website, making it more visible.
9. Website has a lower conversion rate
Every marketing strategy or ad aims to bring the customer to your website.
It is the responsibility of your website to convert customers to your products or services.
If you are facing the issue of a lower conversion rate, you must consider our Website Redesigning process.
We will incorporate actionable elements in your website that can make your customers buy your product or service instantly.
Conversions are a very crucial part of any business.
Digitally, your website can convert your customers to your products and services, making your sales and revenue shoot up like a star.
10. You're rebranding your business
Many times you want to rebrand your business. The reasons can be many, but the primary one is to renovate your business.
When you want to rebrand your business, you cannot sit back and use the same old website.
If you use your old website for your rebranded business, your customers will get confused and may stop using your website. Moreover, it doesn't make sense to use an old website for a rebranded business.
Hence, it is ideal to opt for our Website Redesigning services.
In this case, we will redesign your website entirely from both the backend and frontend aspects to get a new look to your business online.
These are the ten most common reasons you should opt for our Website redesigning services. It is crucial to bring newness to your digital presence to maximize your benefits.
What are the benefits of Website Redesigning?
Website Redesigning can be highly beneficial to all website owners. It gives your website a nice push and can significantly impact your revenue and sales. Here are a few advantages of opting for Website Redesigning.
1. Generating Leads and Conversions
Leads and conversions are the sole purposes of setting up a website.
By redesigning your website in a new and advanced way, you can generate fresh leads.
When those fresh leads visit your redesigned website, you can be assured of maximum conversions.
Our Redesigning process can make your website more functional and aesthetically pleasing.
2. More Revenue and Less Expenditure
Most people fear the financial burden of website redesigning.
Let us enlighten you with some knowledge, the investment that you put into your website redesign is much less than the revenue you can generate with fresh leads and conversions.
You cannot weigh the cost of redesigning and revenue generation in the same beam balance because the latter will be higher.
3. Better Search Engine Rankings
If you opt for our website redesigning services, the primary purpose would be to improve your visibility.
SEO practices can achieve visibility of your website.
Our redesigning process includes the best SEO practices; hence you can hope for better search engine rankings.
Top search engine rankings of your website can help your website become more visible and reachable.
It will automatically generate more traffic on your website, making your revenue higher.
4. Creating Brand Visibility
With our successful website redesign process, you can enhance your brand visibility.
A finely redesigned website by us will have great speed, good accessibility, an impressive user interface, and many other elements that will make your website superior.
With a functionally redesigned website, your site's visibility will become higher.
Your website's awareness will grow and spread quickly.
It will eventually help you gain more profits and revenue.
5. Improved User Experience
Cracking a superior user experience on your website is a huge task.
With our website design, you can have an enhanced user experience.
Once your users start approving your website, you can have more traffic on your website.
More traffic will lead to more conversions.
More conversions are directly related to more revenue and sales.

There are many other benefits of website redesigning, but the most important ones are mentioned above. If you are worried about the expenditure for website redesigning, you must also imagine the revenue and your cost will look negligible.
We are the pioneers of Website Redesigning services in the world of Digital Marketing. We understand the necessity of website redesigning in detail before offering our services. Here are a few reasons why you should choose us,
We are very keen on analyzing and assessing your website before heading to redesign.
We check all the minute details related to both the frontend and backend aspects of your website to eliminate redundancies.
We are a dedicated team who delivers top-notch website redesigning services to our clients.
We are incredibly punctual people who love to deliver our services on time.
We also provide timely assistance to our clients in their time of need.
We have a professionally experienced team with expertise in digital marketing to help you with website redesigning services.
We are keen on providing success in terms of sales and revenue to our clients with our game-changing strategies.
Website Redesigning is an essential part of all businesses. Within 2-5 years, almost all websites become outdated. Hence, to always be at the top of your game, you must always consider our website redesigning services from time to time.
Most entrepreneurs think website redesigning can be an unwanted expenditure in their business. But, the reality is that it is an investment for your future revenue that Website Redesigning can accomplish.
If you are improving the technology in your business, you are in for much higher revenue. Hence, it is ideal to redesign your website with us whenever necessary.