With the help of a leading digital marketing company in Allahabad, you can boost quality traffic, conversions, and ROI. We assist your firm in scaling up with a plan targeted to your goals and data-driven insights.
To succeed in the dynamic digitized business environment, use our digital marketing knowledge and world-class technology.
Digital Romans is a digital marketing agency in Allahabad with a long history of providing digital marketing services. In that time, we've established ourselves as a reliable partner for small-to-midsize businesses wanting to expand their reach through online channels such as search, social, email, and more.
Your firm may increase brand visibility and income with our online marketing services, which include web design, search engine optimization (SEO), social media advertising, and more.
Continue reading to find out how our digital marketing services may help you generate more leads, sales, and money for your business. Alternatively, you may contact us online to speak with a strategist about how our team of specialists can help you build your business.
Online marketing services to help you generate long-term revenue.
Digital Romans offers you the following digital marketing services in Allahabad:
Search Engine Optimization
Search engine optimization (SEO) is one of the most effective digital marketing strategies available. It works to improve your website's rankings in search engine ranking pages (SERPs) so that it receives more traffic.
Companies notice a rise in sales and income as a result of increased visitors and the correct digital sales strategy. In fact, our SEO services in Allahabad have helped our clients boost their profits.
Though SEO can take many months to produce obvious changes in rankings, the wait is definitely worth it.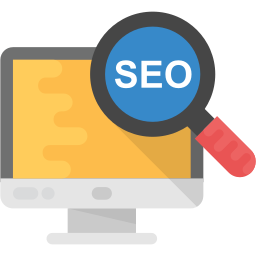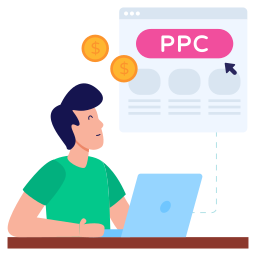 Pay per click advertising
PPC (pay-per-click) advertising is another popular digital marketing method used by digital marketing companies. It's a low-cost method that lets you target ideal clients based on the terms they search, demographic information, and other factors.
PPC advertisements are also popular since they drive visitors to a website as soon as they go online. We'll assist your company take advantage of this PPC benefit as your digital marketing agency in Allahabad.
Facebook, Twitter, Instagram, and LinkedIn are just a few of the social media platforms that may help your company reach out to new clients and raise brand recognition. 
You may also use social media marketing to drive traffic to your website and encourage people to discover more about your business, goods, and services.
Sharing your company's content on social media is a terrific method to drive more visitors to your site and, eventually, more conversions.
As most of the businesses have at least one social media profile, most digital marketing firms offer social media marketing strategies. With such a large user base, it's likely that at least a fraction of your target demographic is using social media.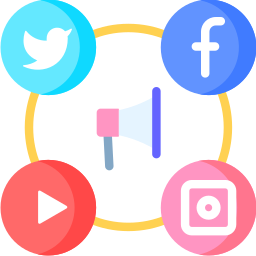 Email marketing may also help you raise brand recognition and drive visitors to your website, and it's a wonderful way to nurture leads. Because of its low cost and great return on investment, top digital marketing businesses provide this service (ROI).
You are bound to get returns on every penny invested in email marketing.  We'll assist your business get the most out of email marketing as your email marketing company in Allahabad.
Your website will not rank in search engines if it lacks content. This emphasises the importance of content marketing, which is why the leading digital marketing companies in Allahabad provide content marketing services.
In order to rank at the top of search results, you may use content marketing to develop useful, interesting material based on your target keywords.
If you want to deal with one of Allahabad's best full-service digital marketing companies, they'll almost certainly also provide custom website design. Web design is an important aspect of digital marketing since it serves as a digital business card.
You won't be able to rank in SERPs without one, either!
What makes Digital Romans the best digital marketing company in Allahabad?
Digital Romans is one of the top digital marketing companies in Allahabad. Here are some of the reasons behind this:
Our clients are like family to us
Working with Digital Romans is like working with family. We understand that the job we perform for your organization is far more valuable than a number – we understand that it helps put food on the table.
We take pleasure in the outcomes we achieve for our clients, and we treat your company as if it were our own. That's how concerned we are.
Every client is assigned a personal point of contact with whom they may communicate throughout the duration of their campaign, and they will have many departments working on their campaign at any given moment.
But why is this advantageous?
Because we have all of our digital marketing experts under one roof, team members from all departments may cooperate on your campaign, ensuring that every aspect of your plan runs smoothly.
Not only that, but we'll always leave the final decision to you.
We also provide personalized reports, ensuring that you have access to your results at all times. 
Your point of contact will go through particular campaign results with you to assist you to understand which methods are working and which should be changed for the best outcomes.
We have an in-house team of professionals
We have an in-house team of professionals
Nothing is outsourced by us. We do all of our work for our clients entirely in-house.
We keep you informed at all times
You won't have to worry about being out of the loop with Digital Romans when it comes to your advertising.
Your point of contact will always keep you informed about the methods we're executing, the duration of your campaigns, and the amount of money you're spending on each endeavor.
For our clients, we deliver outstanding outcomes
After more than a decade in business, it's safe to say that we know what we're doing. 
The outcomes we achieve for our clients are just incredible. Take a peek at our real-world results page to see for yourself.
Boost your revenue with the one and only digital marketing company in Allahabad that gives results
Through techniques like SEO, content marketing, and email marketing, your business may fuel its short- and long-term growth with one of the finest web marketing businesses in the Digital Romans.
Digital Romans is here to assist you in growing your business.
We have a complete trophy cabinet to prove our accomplishment, a long list of testimonials, and an ever-growing client base that is thrilled with the outcomes we deliver.
Please contact us today if you'd like to become a member of the Digital Romans client family.