It is great to have a website for your company or any business. A website provides your business credibility, increases your online presence, and makes you look professional. Nowadays, a major chunk of consumers uses websites to engage with businesses.
Having said that, the next question that can come to your mind is how much it costs to make a website in India, and who should create your website?
India is one of the biggest web development hubs in the world. Therefore, you can develop any type of website in India. But, you must understand that when it comes to the question of website development cost, a one-size-fits-all solution does not apply. It is very subjective and majorly depends on the type of website along with other factors and requirements.
Some websites are simple, consisting of only static HTML pages, which are quite straightforward to design and develop. These websites cost less. However, the same yardstick can not apply to complicated websites. Websites, such as e-commerce, insurance, or any fully customized site, are relatively complex to design and develop. Hence, they can be pretty expensive.
There are multiple requirements and factors that can influence the website cost, besides the type of website. But before getting into the requirements needed to create a website in India, let us check out the different types of websites.
Types of Websites
The first thing that any web designer or developer needs to understand about a website is the purpose of creating it. The nature and requirements of every website can be different, which can influence its creation cost. Hence, you need to identify which type of website you require depending on its features, functionalities, or content that will appear on it.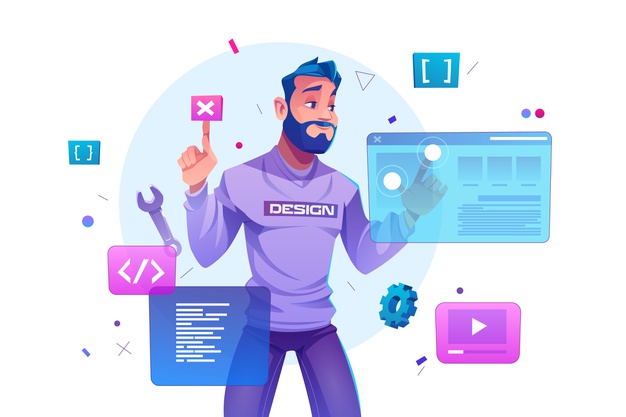 We can mainly categorize websites into the following types :
• Brochure Websites

Small businesses or the ones that are just starting up generally use brochure websites to represent them. A brochure website, in simple terms, can be understood as a digital version of a printed brochure. It showcases the products or services that the company provides. A well-built brochure website can be an excellent tool for promoting a business.
A website design company majorly delivers a brochure website with a few pages, including the Home page, Services, Gallery, About us, and Contact us page. It is one of the simplest websites according to its functionality. Local businesses like cafes and salons use a brochure website for online presence.
If you also want a brochure website to represent your business, you are expected to pay around Rs. 20000 to 30000.
• Educational Websites

Schools, colleges, coaches, and other educational institutions use educational websites to offer various courses or curriculums and reach more students. The size of an educational website depends on the type and number of courses or curriculums that the educational institution needs to showcase it.
This category of websites is usually complicated to develop and include both static and dynamic type of content.
The cost to develop an educational website may vary from Rs. 25000 to 60000.
• Corporate Websites

A corporate website is the type of website used by a brand or a company to officially represent it on the internet. The company utilizes this website to convey business information, display its products or services, make contact with its customers or visitors and showcase testimonials.
Corporate websites are extensively dynamic and are a little complicated, depending on their features and functionalities. Therefore, the development cost of a corporate website may fall anywhere between Rs. 35000 to 70000.
• Magazine Websites
From around the last twenty to thirty years, the magazine industry has transformed itself from a print-only platform to a digital format, which is the reason that they need magazine websites. A magazine website showcases articles, pictures, and videos that are entertaining, informational, and educational.
If you are also thinking of developing a magazine website, keep in mind that the overall design of the website should be responsive. It must be readable on every size of different devices, such as laptops, tablets, or smartphones.
The content displayed on a magazine website is highly dynamic. Depending on the features and functionalities of the website, its development cost should fall between Rs. 40000 to Rs. 80000.
• Portfolio Websites

A portfolio website is a convenient way for creative professionals, such as artists, writers, filmmakers, and designers, to showcase their work. The primary purpose of a portfolio website is to provide a way for professionals to enhance their reach and land more clients. It also allows them to expand their skills and services.
A portfolio website makes it easy for potential clients to view their work on the internet and hire their services.
While building a portfolio website, keep in mind that there is no need for you to display every single project. Instead, focus on your best works and highlight them on your website. The development cost of a portfolio website may lie between Rs. 20000 to Rs. 45000.
• E-commerce Websites
We can understand that an e-commerce website is an online shopping place where people can buy products or services from a company, which means that the website handles online money transactions.
An e-commerce website should make it easy for users to browse products, filter by categories, highlight major sales and purchase products. It should also be user-friendly for customers to pay on the website's payment gateway.
An e-commerce website has fairly more features and functionalities than a typical website. Hence, it can cost quite more than a regular website. You may have to pay around Rs. 35000 to Rs. 100000 for an e-commerce website.
• Blogs

A blog is an informational or discussion website that features regularly posted articles, pictures, and videos.
Blogs started out with more personal or casual content maintained by a single individual or a small group of people. However, since the popularity of blogs grew tremendously, it is now very common for small businesses, companies, or major brands to own a blog and periodically publish content on it.
Posting quality content on the blog regularly enhances the reach and overall credibility of a company or business. In addition, blogs can also provide fodder for social media posts and email campaigns of the company.
Ensure that you have a team, strategy, and plan to post fresh and updated content on your blog before launching it.
You may have to pay between Rs. 20000 to Rs. 40000 for creating a blog.
Requirements to create a website in India
After discussing the types of websites, let's take a look at the requirements to create a website in India.
• Domain Name
The journey to developing a website begins with domain name registration. The domain selling agencies, such as GoDaddy, HostGator, or BlueHost, can help you search and buy the domain name to create a website and build your online presence. It will cost around Rs. 900 to Rs. 1200 per year.
• Hosting
After domain registration, the next task on the list is to host your website. The hosting services will provide the space for your website on a web server, which can cost you monthly or annually. It is a recurring cost depending on the services you have opted for from the hosting provider.
In India, the website hosting cost can lie anywhere between Rs. 5000 to Rs. 10000 on shared hosting platforms.
• Website Designing
Website designing is a crucial component of web development. Several web design sites offer ready-made web design templates and allow you to select, buy and use them for your website. You can also find several free web design templates on the sites, but they have many limitations. The web designing part can take the biggest chunk of the website development cost.
You can get impressive and good professional web designs from around Rs. 10000 to Rs. 60000 in India. Exclusive web designs are a bit more expensive, and they can cost you around Rs. 100000 to Rs. 300000 or even more.
• Content Management System (CMS)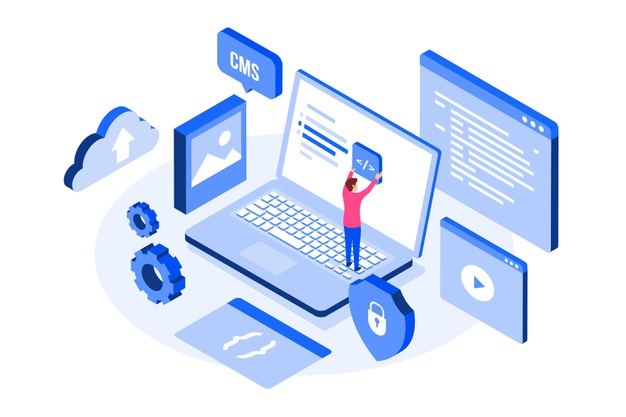 Static websites do not require a CMS since they do not change their content frequently. But dynamic websites are active sites, data-driven, and need a good content management system (CMS).
There are various free web CMS options available, such as WordPress, Joomla, Drupal, Magento, etc. They contain convenient themes and easy-to-use plugins that can make your life a lot easier while operating the website. However, some of these themes and plugins can also cost you.
• Content Writing
Good quality content is the lifeline of your website. Content engages people, drives more traffic, and converts visitors into customers for your business. You can create your own content – articles, blog posts, documents, etc., or you can hire someone to do it for you.
Website content writing is a specialized job, and it can cost you around Rs. 2000 to Rs. 3000 per page in India.
• Graphic Designing
If content writing conveys what you have to say, graphic designing is required to create beautiful designs to attract more users to your website and get their attention.
You can hire graphic designers on an hourly basis or project basis to create visually appealing designs, logos, pictures, and templates for your website.
• Search Engine Optimization (SEO)
Search engine optimization (SEO) is not an option these days. It is a vital component to draw more traffic and potential customers to your website. It is a technique that allows search engines to index the web pages of your website with relevant keywords. This helps users to locate your website on the internet.
Search engine optimization (SEO) can cost you around Rs. 20000 to Rs. 55000 for a website.
• Website Maintenance
Once your website is designed, developed, and launched, the next crucial step is to ensure that it functions properly. Most web development companies provide yearly website maintenance services at a nominal charge. You can contact them for your website maintenance.
Why do you need a professional web design company for website development?
We can't stress it enough that you do not try your hand at creating your website unless you are a website developer yourself. It will save you both time and effort.
There are several benefits of hiring a professional web design company for website development and maintenance. Firstly, they have a lot of experience in creating accessible, impressive, and user-friendly websites. Second, they are familiar with the latest technology, various plugins, and third-party tools to integrate into the website to enhance its speed, security, and reliability. Finally, it will also help you in saving time and direct your focus and energy on your final target.
How much does it cost to make a website in India Key Takeaways
It is good to have a ballpark about the website creation cost before reaching out to a web design company for website development and maintenance in India. Hiring professional help will ensure that you build a website with a unique design, convenient features, robust security, and easy maintenance.